Minuteman Press – 6930 Olive Blvd., University City, MO 63130
(314) 669-6921
"Would you rather talk to a chat window or a person? We're here to show samples, have a dialogue with our customers, and find what works best for you. Just bring in what you need and we'll figure it out together."
First-time business owners, Jeremy and Jennifer Pendley, opened their doors to Minuteman Press on August 10, 2020 and had their official ribbon cutting on was on October 8, 2020.
The Pendleys just moved to the St. Louis area a little more than a year ago. "There is so much to offer with the loop right here," says Jeremy Pendley, "Everyone has print need. Our Olive location to perfect to serve businesses in University City, Central West End, and Clayton."
And what sets Minuteman Press apart from other print shops in town? The owner will drop off your print order directly to your door. Talk about first-class service.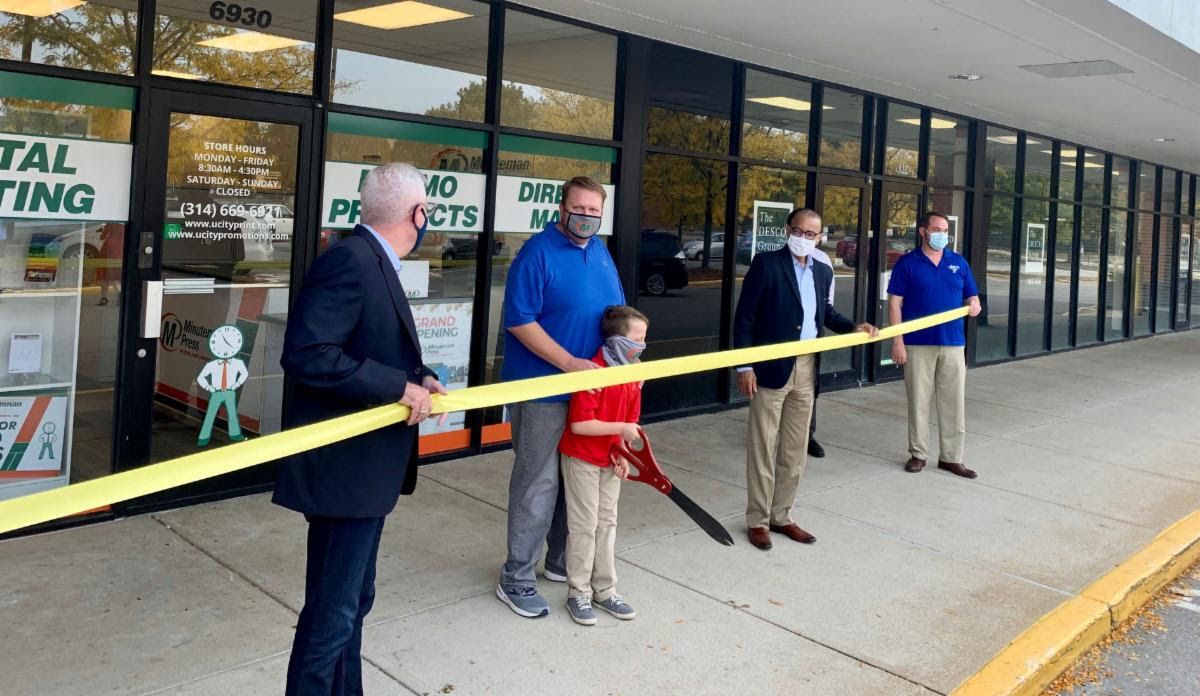 Mayor Terry Crow and City Manager Gregory Rose welcome Jeremy Pendley, Owner of Minuteman Press to their 6930 Olive location during the ribbon cutting event on October 10, 2020.
"We're excited to be here. We've hired a fantastic staff who are true professionals who work well together. One thing that stands out is that they offer free delivery."
We believe that your business is our business and that if you succeed, we succeed. That philosophy is at the center of everything we do. It is why we work hard to deliver the highest-quality products and services on time and within budget. It is why we strive to provide all our customers with first-class service each and every day.
We love what we do. There is no greater satisfaction than delivering a finished product that helps our client reach their goals and objectives. Every day we take ownership of our customers' projects and see them through from concept to completion. It's an exciting and rewarding process.
Mission Statement
Our mission is to provide you with the highest-quality products and services possible in a timely fashion and at a competitive price.
We promise to listen to you and help you achieve your business goals. We will always be there with honest, expert advice and quick, friendly customer service.
Our goal is to meet and exceed your expectations.

Do you want to order invitations or print tickets for an upcoming event? Design a brochure for your company? Create presentation folders for your next sales meeting?
Whatever you need, Minuteman Press is your local printshop, ready to exceed your expectations. We'll get your project done right the first time, on budget and on schedule. Our professional staff has years of experience and unparalleled expertise in the print industry, and will see your projects through from the beginning to the finished product. Count on us for reliable service and affordable prices, no matter what the job is. If you don't see what you need in our products section, call us. We'll do everything we can to fulfill your request and deliver what you're looking for.
Grand Opening of the University City Location
To help during the stress of COVID, we are offering a Bounce Back program. It's a free digital marketing website created to help support local businesses get back on their feet. Visit our site to add your business information or give us a call at 314.669.6921.