Drive-In Movie Featuring Spider-Man: Into the Spider-Verse
sat12sep6:30 pmsat9:15 pmDrive-In Movie Featuring Spider-Man: Into the Spider-Verse"Love The Loop"6:30 pm - 9:15 pm Parking Lot Behind Starbucks in the Loop, 664 Kingsland Ave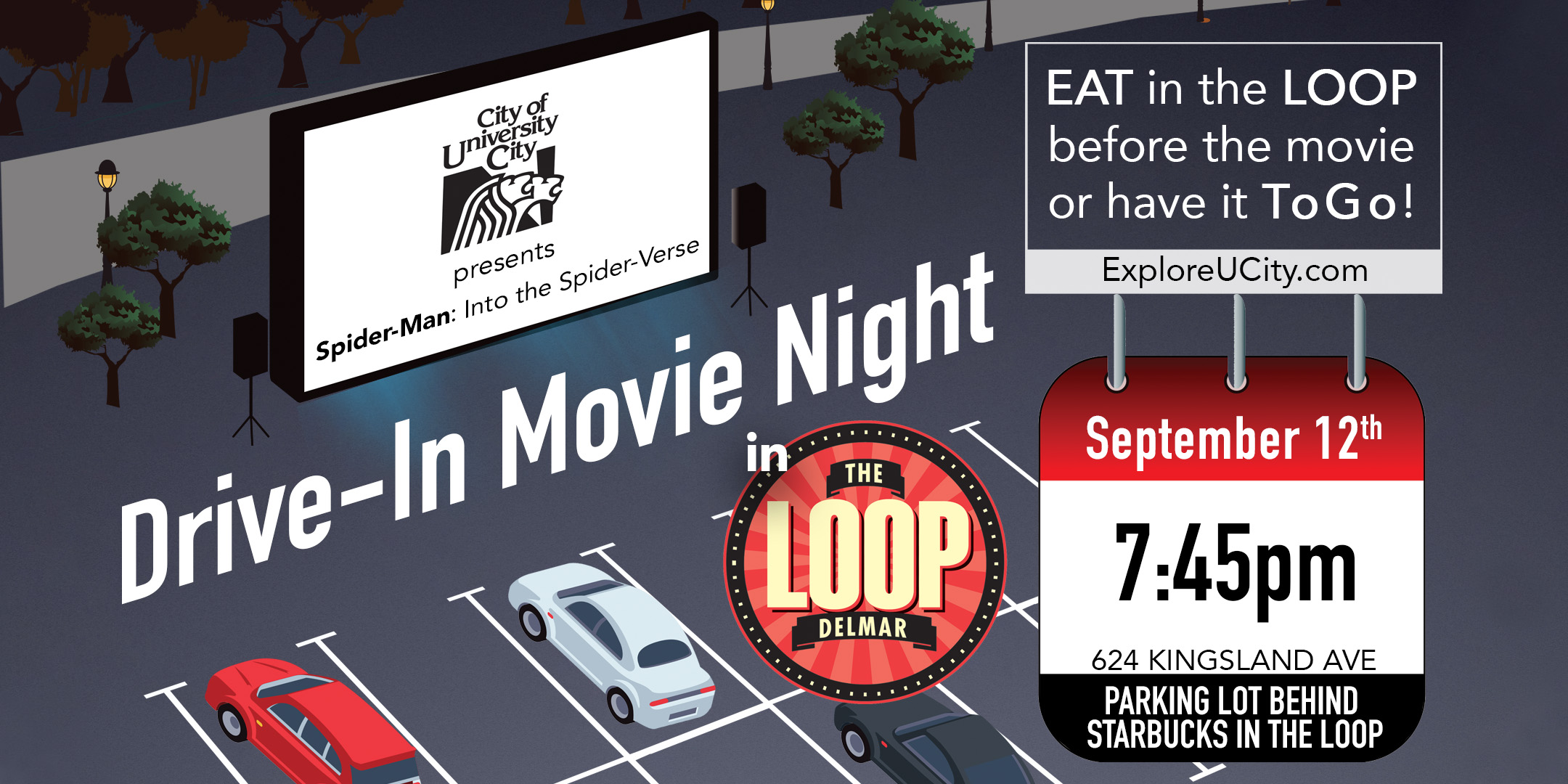 Time

(Saturday) 6:30 pm - 9:15 pm
Event Details

Featuring: Spider-Man: Into the Spider-verse
Parking lot opens at 6:30pm | Movie starts at 7:45pm
Featured Movie | Spider-man: Into the Spider-verse
SAFETY FIRST
The safety of movie-goers and staff is our top priority. Our drive-in show was designed to maximize social distancing and will meet all local health and safety standards, as well as state regulations.
MASKS
Movie-goers are not required to wear masks while they remain in their vehicle, however, masks will be required if leaving your space to use the restroom facilities.
SANITIZING
Each restroom unit is equipped with hand washing station. Cleaning staff will also be sanitizing high-touch areas before, during and after the movie.
EXITING
Please pay attention to all exit announcements as well as the instruction from parking attendants at the end of the movie. This will allow everyone to get out efficiently and in a timely manner.
WHAT CAN I BRING?
Audio Recording NO
Binoculars YES
Blankets / Tarps NO
Cameras YES
Facemasks YES
Fireworks NO
Flags NO
Glass Bottles NO
Grills NO
Food (Pre-Cooked) YES
Illegal Drugs NO
Inflatables NO
Oversized Vehicles NO
Lawn Chairs NO
Pets of any kind NO
Signs/Banners NO
Tents NO
Video Recording NO
Water Bottles YES
Firearms / Weapons / Knives NO
FAQ
Can I transfer tickets to a friend?
Tickets are non-transferrable and can only be scanned once. Your party must arrive in the same vehicle.
What does it mean to purchase a reserved space and what will that look like?
A reserved space will allow for social distancing next to your vehicle. The parking spaces are first come first serve, with larger vehicles being directed to the back of the parking lot.
Can I watch the show outside of my vehicle?
No, St. Louis County Department of Health will only permit this event to take place with individuals remain within their vehicles. Of course existing the vehicle to use the restroom, pick up food, or walk around the Loop is permitted. Due to local guidelines, commingling between spaces is strictly prohibited.
Does everyone in a vehicle need a ticket?
No, these events are ticketed by car therefore you only need to purchase and present one ticket per car.
Can I bring oversized vehicles?
Buses, large trucks, recreational vehicles, limousines, and other oversized vehicles will not be permitted.
Spaces will be assigned first come, first serve. There will be no changing of parking spaces once you are assigned a space.
Can I bring my own food and beverage?
While grills, BBQ pits, open fires, tents and the like are not permitted, you are welcome to bring your own pre-cooked food and beverages. As always, underage drinking will not be tolerated and we insist that you drink responsibly. Designated drivers are always encouraged.
Will restrooms be provided?
Yes, portable restrooms will be available for your use. When travelling to and from restroom facilities, guests are required to maintain social distancing. Masks are required when outside of your car. Your safety is our priority and for that reason, restrooms facilities will be sanitized in accordance with current local guidelines.
How will I see & hear the movie?
Everyone will be able to hear the movie through their car radio and downloaded apps on your phone by tuning into 87.9 FM.
What health and safety protocols are in place for your staff?
Staff must submit to a temperature check, a pre-shift health screening, will be required to wear masks and receive sanitation training prior to arrival at work.